Sheds
Amish Built Sheds For Sale
Ready for true amish quality that is delivered fully assembled to your backyard? Well here at Backyard Escapes quality is our number one priority.
Our amish shed shop, located in Lancaster Pennsylvania, is where 3 amish families build our quality storage sheds. Being built on the foundation of quality over quantity, you can trust Backyard Escapes for a safe and secure storage solution in the backyard!
We Bring A Quality Shed For Sale
When searching for a quality shed for sale there are several factors to consider such as build quality, materials, and of course the price.
Many shed manufactures skimp on the materials to save a dollar, not with Backyard Escapes. We bring premium quality buildings at an affordable price. That means less stress and hassle in the shed buying process!
Hassle Free Fully Assembled Sheds
When searching for outdoor storage sheds, you will find many shed kits for sale. While they are cheaper than a fully assembled shed they may not be worth it in the long run. 
Shed kits cost time and extra money to assemble if you are not a handy man. Buying a shed that is fully assembled means it is ready to go upon delivery and install! 
Why Would You Need A Storage Shed?
Everyone is a collector whether they know it or not. You may actually have a collection you showcase in a room in your house or you accumulate items throughout the year, meaning you are a collector. But instead of piling everything up in the attic which means you will never find it when you need it or perhaps in a spare bedroom meaning guests will have to parade around all the items, put a storage shed in the backyard to simple and easy storage. This storage solution is best because it is outside of your home which means less clutter and also a quality storage shed is safe and secure! But what are the reasons you need a storage shed?
Of course storage

: As said above, everyone needs more storage. Having a storage shed outside let's you get those unnecessary items out of the house.
Vehicle Storage: Why go spend a lot of money on lawn mowers, weed eaters or even ATV's just for them to sit outside. Store them in a place dry and secure!
Seasonal Storage: Everyone loves to decorate especially for Christmas and Halloween. Store those seasonal items away where they don't need to be touched or moved again like the backyard! 
Business Storage: If you run a home business then your house is most likely full of inventory. Store them outside away from your home life while still being organized! 
Hobby Space: Use an outdoor storage shed as a place for your woodworking, mechanic shop, or even just an art studio. This gives you plenty of room to work on your skill
Tool Shed: Store and organize all your tools in one place so you know where they are all at instead of all over the place! 
We Bring "Custom Backyard Storage Sheds For Sale" To A Whole New Meaning
When searching for a storage shed near me you will find basic structures that blend in with every other shed out there. Why not customize a shed and make it your own? 
With Backyard Escapes we encourage customization! Make your backyard standout from your neighbors or friends and add great curb appeal and home value in the process! 
A custom storage shed isn't adding features that cost money, it can be as simple as changing the colors to match your home and make it your own. Change the colors of your siding and trim to match your sheds surroundings to complement and tie everything together! 
The Manor Series adds a touch of elegance to the backyard. This tall shed brings plenty of headroom and added features to your backyard!
Strong and Sturdy Portable Sheds
Quality is key when it comes to building any structure. When searching for storage sheds near me, be sure to find the build details. Check out what makes our sheds the best on the market!
Pressure Treated 4×4 Runners
Pressure Treated 2×4 Floor Joists
5/8″ Plywood Floor (3/4″ available)
Interlocking Double Top Plate
16″ On Center Framing
4″ Overhangs
Gable Vents for Ventilation 
Aluminum Windows with Screens 
Double Doors with Door tensioners
Door Bumpers
So much more we can't list it all! We go the extra mile to make sure your storage shed provides a seamless experience without any hassle down the road!
Check Out Some Of Our Shed Styles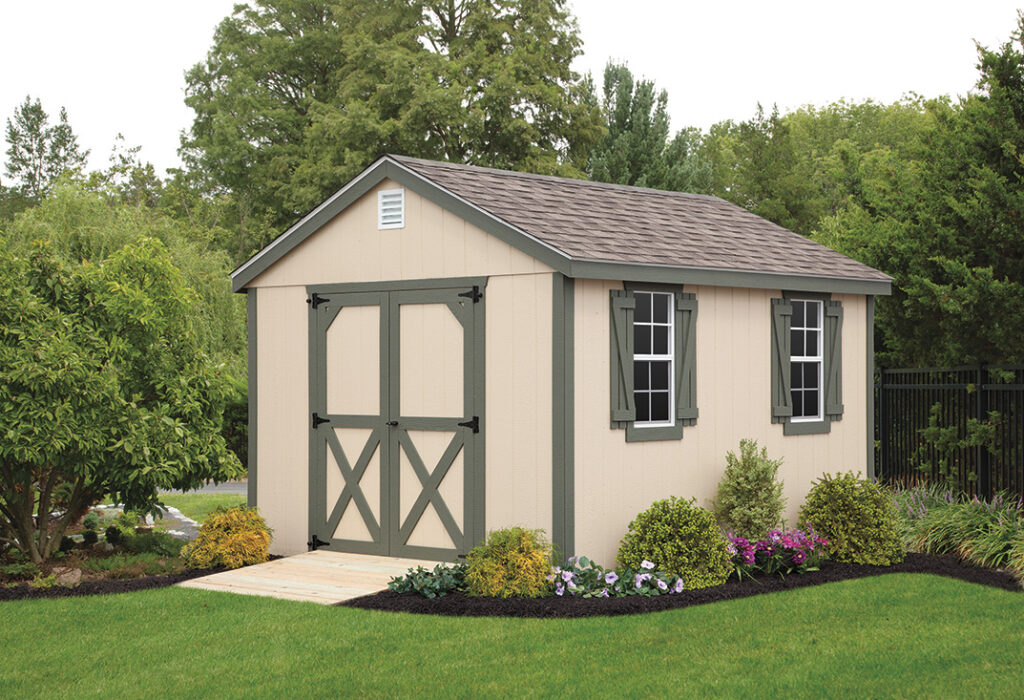 The regular series is the basis of our storage sheds. Features a 5/12 roof pitch which isn't too flat or too steep and fits into most backyards. This series also comes standard with 4 inch eave overhangs to protect against slicing rain while also providing great curb appeal! This style also comes in a 6 or 7 foot side wall.
The classic series is one of our most popular styles! Giving off a cottage style look this shed comes standard with 8″ overhangs all around, 8/12 roof pitch (on applicable widths), larger 24″x36″ windows with screens, classic style doors, and classic vents. This is a cute storage shed to have in the backyard and provides curb appeal to your backyard!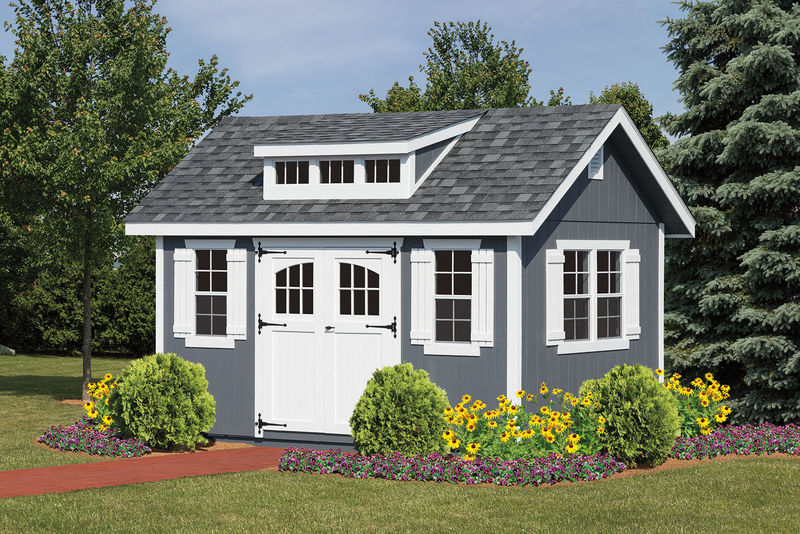 The highwall series is another popular style and provides an ample amount of storage room. With the barn roof you have plenty of head room for hanging storage, especially if you add a shed loft you can add extra square footage without going bigger! Be sure to check out this style when considering adding a shed in the backyard.
The quaker series adds curb appeal and functionality into the backyard. This building features two types of roof pitches, a 5/12 and a 7/12 in order to meet the roof lines together. The New Haven series as pictured to the left adds even more curb appeal with the straight lap siding! 
Other than building the perfect storage shed for sale that fits your needs the best, the second most important part is the foundation you will sit your new shed on. As most sheds you see driving down the road sit on concrete blocks, while that is adequate, the building will shift and settle over time. Here are different shed foundations to consider!
As said above this is the most used/seen shed foundation customers use. This is the most affordable options to place you custom storage shed on, however it is not the most appealing or sturdiest solution. 
As your new backyard shed or structure sits on your property the blocks will shift and settle into the ground. We will get the building as close to being level as possible on delivery but as the building sits there it will soon fall out of level. Going with this option will increase the chances of your doors pinching and not being able to open and close. 
A stone pad shed foundation is an economical way to provide a sturdy and great base for your new custom built shed. The benefit of this pad rather than a concrete foundation comes with the ability to make your builds level with ease. Being able to shovel more stone under the needed area without the use of wood shims creates a beautiful and seamless foundation! When shopping for custom storage sheds for sale, ask us about a stone pad and we can help install!
A concrete pad may be the most expensive foundation for a storage shed but it will prevent settling and shifting as the building sits on your property. 
Some customers make the concrete overhang the width of the building as a sidewalk while others love the look of the storage shed sitting flush with the pad. Adding this shed foundation will create a perfect pad that will bring ease and stress free living to your backyard! 
Need more information? Enter your information below and we will be more than happy to assist you along the way!