Check out this custom tiki bar this customer designed! He wanted a space in the backyard he could relax, stress free, and also a place he could entertain his guests when the time comes. This tiki bar does all that but also acts a great conversation piece that will draw the eyes of everyone who see's it!
A Tiki Bar in a Backyard Oasis
This customer originally started to plan for a backyard tiki bar when he was installing his pool. he allotted a sixteen by sixteen area next to his pool deck to fit this structure seamlessly. He constructed a stone pad which we then built this structure exactly like a shed ,with a floor, then we hid the bottom by wrapping it in azek. Let's check out the specs on this tiki bar!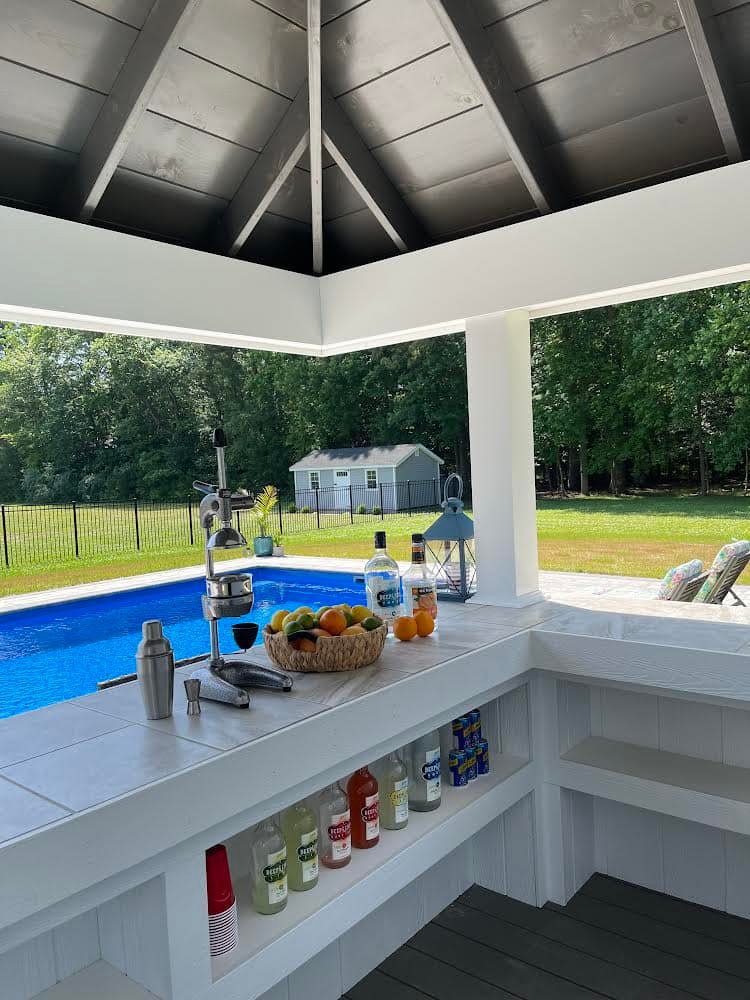 He started with his floor plan, 16×16, this layed out the basis of the bar dimensions. Next was the siding, he obviously wanted to match his house so we paired the siding and shingles with one of our in stock colors and it matched perfectly. With a few design tips we offered, we decided to go with vinyl siding on 3 sides. The other walls has our LP dutch lap which is on the wall behind the bar and under the bar top on the outside. This added a different texture to the structure that really gained your eye!
He loved the idea of doing exposed rafters on the ceiling which we then finished with tongue and groove in between. It really gave it the true tiki fell you expect! Blending in with his existing patio elements and decking, we think the smoke colored stain was a great choice.
For the bar top we configured it in an L shape, meaning it conjoined to the wall on one side and on the other it has an opening to service the bar area! For the bar top he selected a tile from our selection that went perfectly with this patio color scheme and worked beautifully.
And of course you always need storage under the bar, we added azek shelving underneath to hold all his desirables. We left a tiny nook as well to fit his ice maker for those frosty drinks on a hot day by the pool.
Over the bar area we added a 3′ overhang to shield their friends and family from the sun or possible rain when they are sitting at the bar top. To complete the bar area, we installed electrical outlets underneath for easy plugin for a blender, ice machine, and anything else he would need!
These customers wants a tiki bar and shed combo so they had one seamless building. Behind the bar area we added a storage area for the pool noodles and rafts, bar accessories and whatever else they desired! Perfect for not having two structures fill up your yard, have two in one.
This custom tiki bar turned out really nice and spruced his poolside up beautifully! Check out more poolside idea's by reading our blog on "Why A Pavilion Is A Great Poolside Addition"
Ready for a pool house in your backyard? Enter your information below and a member of our team will reach out to get the ball rolling on your project!