When searching for a commercial dog kennel there are many different options or upgrades to consider. From floor drains to whelping nests and every in between we do it all! In this blog we are going to go over the best options you should definitely consider for your kennel.
A Dog Kennel For Breeding Or Boarding
Our commercial dog kennels are as versatile as they come, fitting great into any scenario you have. For breeding and boarding out kennels are easy to maintain, come fully assembled and best of all they are ready to use as soon as they are delivered, meaning you are not sitting around waiting for money to come in!
Floor Drains
One of the best additions you can add to your commercial dog kennel is the stainless steel floor drains! This is the most popular upgrade and is the biggest help. No more mopping up fluids and taking time away from other chores, adding the drains to your kennel will create simplicity and bring ease into the dog business. A simple hose will spray out the interior pens
Complete with plumbing underneath, slopped the way you desire, you can easily plug this into your septic or other waste connection. This is the upgrade we suggest to all new kennel owners, is worth every penny, and create's a life of ease when housing dogs!
Heat/AC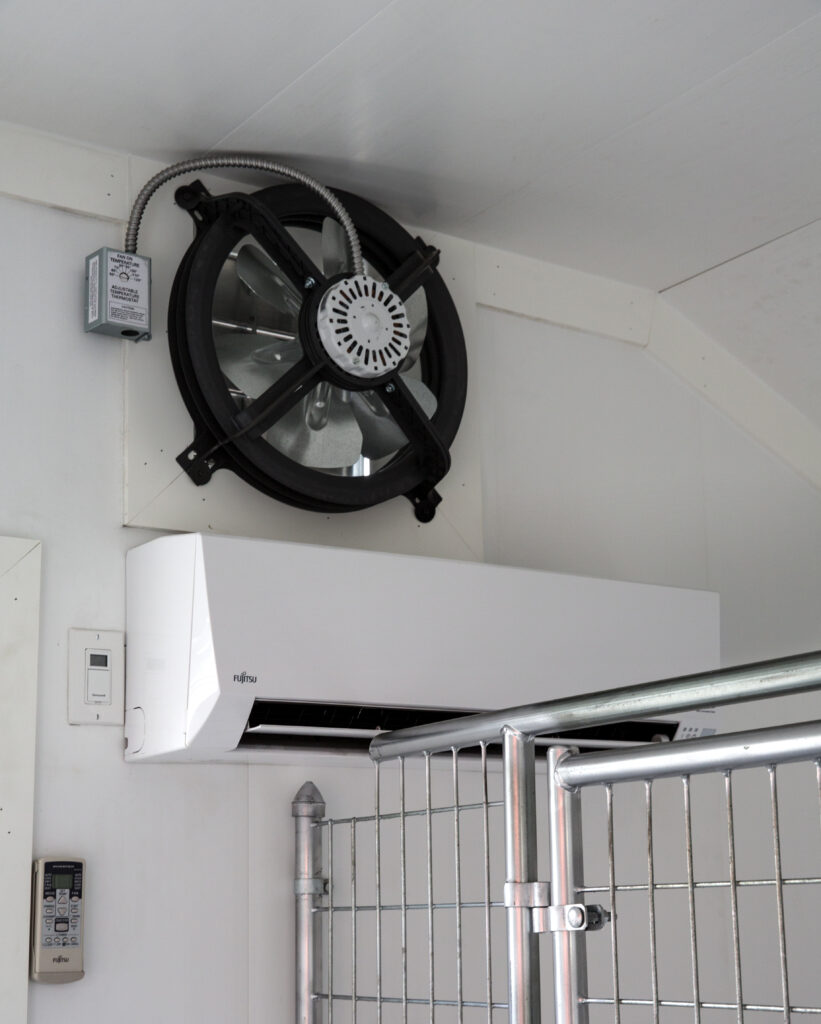 Almost a must for a commercial dog kennel a heat and ac unit, whether it be a mini split or a through the wall unit, will keep your dogs comfortable as well as yourself while you are in the kennel. No need in installing one after we build and deliver the kennel, have us install and balance the unit in our shop by professional HVAC installers!
Benefits of having us install your heat and ac unit including have a sleek design inside your kennel, meaning no rough edges or cut marks there should not be as well as trim around the interior unit that matches the rest of the kennel staying away from a eye sore in the kennel. Also by having us install your heat and ac you kennel will be ready to go as soon as the kennel is delivered and an electrician connects the power. That means no big wait time till you start making your money and dogs can start coming in!
Guillotine Dog Doors, The Best For Commercial
When you think of a commercial kennel, you will think of a dog door such as the guillotine door. This is a commercial kennel statement and is well worth your money.
The guillotine dog door gives you the ability to control when your dogs go to the exterior run. This is great for settings when your kennel is close to your home or other buildings when you don't want to hear the dogs barking or disturbing the peace in the evenings or mornings.
This door clips conveniently right to the chainlink fencing and holds tight so the dogs won't be able to open it!
Easy Wash Down, A Hose Port
Pigging backing on the floor drains, this upgrade is a very cheap yet exceptionally functional option. A hose port can benefit you greatly if you add the floor drains or even for watering.
Instead of having to drag a hose from your house faucet or one from an existing structure add this option to your kennel for extremely easy access. Attatching a garden hose will make cleaning the interior kennels that much easier, and pairs perfectly with the floor drains to complete the ease of cleaning. Not only does it work well with the floor drains but also helps with the watering. No need to bring a water pale or run back and forth to fill up the water bowls. This hose port helps with every need you can think of. Also consider the exterior freeze proof hose port to easily clean the outside runs!
Strong, Sturdy, Reliable Fencing
Do you have large dogs that are strong and not very gentle? Perhaps escape artist and chewers? Well this fencing will solve this problem, the 6 gauge fencing is as the title says strong and sturdy.
Coming in two variations, a 2×4 and a 2×2, most customers choose the more economical choice which is the 2×4. This is the strongest fencing option we offer and is a very popular choice for breeders, adoption centers, and boarders!
Keep The Dogs Safe, Add Kennel Dividers
Maintaining safety and order in a dog kennel is priority! We all know that some dogs can get very aggressive towards one another, especially if they are in an environment they are not used to. That is why the kennel dividers are a great option to consider.
Sturdy and chew proof these dividers are made to take the beating dogs dish out. Not only great for fight panels but also great to calm the dogs and reduce the amount of barking that is produced. Dogs tend to bark when they see or interact with another dog, adding these dividers creates a visual barrier between kennels!
Automatic Water Bowl
Just as this list is proving to do, eliminate stress on you, we just keep adding! The automatic water bowl takes the stress right off your shoulders, no more constant worry about if your dogs have adequate water.
Mounting directly to the wall, we install all the plumbing necessary to operate each water bowl and fill them efficiently. Definitely a great option to consider to worry less and take the stress of your shoulders!
All these options are great upgrades for a commercial dog kennel. Meant to alleviate the stress that is carried by boarding, training, or breeding dogs and make the process easier for you to handle. Check out our other blog post on "Benefits of Having A Outside Dog Kennel" as well as be sure to check out our residential and commercial dog kennels or enter your information below and we will reach out to get the ball rolling!