Looking for a backyard shade canopy that goes with your landscaping and enhances your backyard ambiance? Well we have you covered! We offer many different styles and if you still don't see one you like, we can build anything you can dream up! So let's go through the popular pavilion styles and don't forget you can customize to put your spin on them!
Amish Built Pavilions, Meeting Your Needs
True amish quality out of the heart of Pennsylvania. We do not like to cut corners, so when we say our pavilions and other structures are built to last we mean it! Thick beams and headers to strong lags and screws to tie it all together. These are the most popular styles!
Hip Roof Pavilion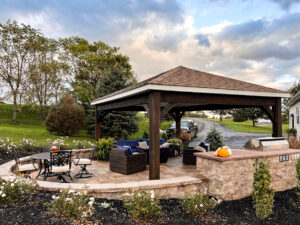 The classic look that you see most commonly. This style will show your roofing material whether it be shingles, metal, tile, or more. This is a classic backyard centerpiece customers have enjoyed for years! This style will give you the most amount of shade based on the placement in your backyard.
A-Frame Pavilion
The A-Frame Pavilion, perfect to set off any backyard! This structure has been growing in popularity year after year. Choose between a closed gable such as the white pavilion above for an open sunrise gable like the wood pavilion above. This structure matches the style of most houses and appeals to a lot of customers!
Pro Tip: Add a reverse gable like the wood pavilion or a dormer such as the white vinyl pavilion above to further the curb appeal in your backyard!
Timber Frame Pavilion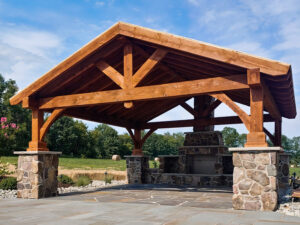 Enjoy the rustic feel and touches of a timber frame pavilion. This style offers the thick, rough cut wood customers have loved. Staining this pavilion to match your landscaping whether it be a dark or light tone, it will enhance your backyard more than ever! The big sunrise gable made of rough cut 4×6's really adds to the curb appeal. This pavilion fits in best with imperfect rocks and landscaping as this structure has rugged lines and imperfections the wood has. Definitely consider this structure in your backyard!
Lean-To Pavilion
The lean-to pavilion, this structure is customized most of the time like the structure on the left above. Showing all the rafters and headers that are accented with decorative elements set this pavilion apart from the rest! The vinyl one to the left is the basic style, customize to fit your desires. Add transom windows to set off the space or leave it open and finish the ceiling with your desired stain color combination for that added wow factor in the backyard!
No matter the design, Backyard Escapes, can build your dream structure! You dream it and we will build it! These are not the only popular pavilion styles we do, we have accumulated many designs by customers, some are custom works to fit their allotted area in the backyard! Turn a pavilion into a custom pool house!
For more information, read our other blog post on " Why a Pavilion is A Great Poolside Addition"!
Ready to build the spark in your backyard and a great conversation piece? Fill out the information below to get the ball rolling!