Animal Structures
Amish Built Outdoor Animal Structures
Looking for quality built animal structures that bring your pets comfort while also relieving stress? Well here at Backyard Escapes, our animal houses are just that! 
With custom designs and numerous options we can create the best structure to solve all your problems while creating a life of ease for you. Our amish built horse barns, dog kennels, chicken coops, and more are hand crafted here in the United States of America with pride and quality craftsmanship from the heart of Lancaster County Pennsylvania!
When searching for an animal structure for sale for your family pet only the best will do, right? Backyard Escapes overs a premium grade animal structure that will last for years and years without any hassle from you! You want your pet to be comfortable and relaxed when being outdoors, so why not get them a coop, kennel or barn that is just that? 
Need a commercial dog kennel or horse barn, maybe even a large chicken coop? Well our structures are the best solution for you. Our animal structures offer minimal maintenance and a stress free experience. No more constant staining, cleaning, or fixing because we all know, animals are not gentle! 
Benefits of an outdoor dog kennel
Safety and Security: An outdoor dog kennel provides a safe and secure environment for dogs to play and exercise. It prevents them from wandering off and getting lost or injured.

Protection from the Elements: A dog kennel provides protection from harsh weather conditions such as rain, snow, and extreme temperatures, ensuring that your dog stays healthy and comfortable.

Reduced Destructive Behavior: Dogs that are left unattended in the house may engage in destructive behavior such as chewing, digging, and scratching. An outdoor dog kennel gives them a designated space where they can play and be active without causing damage to your property.

Socialization: An outdoor dog kennel can provide opportunities for socialization with other dogs and people. This can be beneficial for dogs that tend to be shy or anxious, as it can help them become more comfortable around others.

Convenience: An outdoor dog kennel allows owners to have a designated space for their dog's activities, which can be easier to clean up and maintain than allowing the dog to roam free in the yard.

Peace of Mind: An outdoor dog kennel gives owners peace of mind knowing that their dog is safe, secure, and happy while they are away from home.
Shelter and Protection: A horse barn provides a safe and secure environment for horses, protecting them from harsh weather conditions such as rain, snow, and extreme temperatures.

Increased Comfort: A horse barn offers horses a comfortable and stable living space, including a stall for rest, a feed room for food storage, and a tack room for storing equipment.

Health and Safety: A horse barn can be designed with proper ventilation, lighting, and drainage systems to maintain good health and hygiene for the horses. It also minimizes the risk of injury or illness caused by exposure to dangerous elements, such as poisonous plants or predators.

Convenience: A horse barn provides a convenient place for horse owners to feed, groom, and care for their horses, as well as store hay, bedding, and equipment.

Increased Property Value: A horse barn can increase the value of a property, especially for those who enjoy horseback riding or equestrian activities.

Opportunity for Socialization: A horse barn can offer opportunities for socialization with other horses and horse owners, which can be beneficial for the horse's mental and emotional well-being.

Access to Facilities: A horse barn may also offer access to other facilities, such as an arena or a riding trail, which can enhance the horse's training and exercise routines.
Benefits of a chicken coop
Protection from Predators: A chicken coop keeps chickens safe from predators such as foxes, raccoons, and hawks, which can kill or injure them. 

Health and Hygiene: A chicken coop can be designed with proper ventilation and cleanliness, which can help prevent diseases and parasites that can harm the chickens.

Egg Production: A chicken coop provides a comfortable and secure environment for hens to lay eggs, which can be collected easily by the owner. Everybody loves farm fresh eggs!

Pest Control: Chickens are natural pest control agents and can help reduce pests such as ticks, fleas, and grasshoppers in the yard. Consider a chicken coop with wheels for easy maneuvering in the yard.

Sustainable Living: Raising chickens in a coop can provide a sustainable source of food, as chickens can be raised for meat as well as eggs.

Educational Opportunities: A chicken coop can provide educational opportunities for children to learn about animal care and agriculture. It is also a great family bonding activity and teaches responsibility!

Cost-Effective: Purchasing a chicken coop can be a cost-effective way to raise chickens and provide a source of fresh eggs, as well as a way to reduce waste by composting chicken manure. A quality chicken coop for sale can bring years of eggs!
Amish Built Chicken Coops
Our small chicken coops for sale are perfect for beginners looking to spread their wings in the chicken raising hobby. Select from several chicken coop designs to find the best one that fit yours needs and desires. Add the wheel kit for easy moving in the yard so your chickens can eat all the bugs they want in your yard!
Are you an experience chicken raiser who is looking to grow their flock but your current backyard chicken coop just isn't cutting it? Well check out our large chicken coops! Ranging from a medium to large flock size we can build the perfect coop for you.With a Backyard Escapes chicken coop you can rest assured your chickens will be safe and secure while also making the clean up stress free! 
Residential Outside Dog kennels
Looking for a comfortable and safe structure for your furry friends? Check out our outdoor dog kennels for sale. Providing a comfortable space outside your home that is easy to clean, secure, and requires very minimal maintenance! Your dog will feel like they never left the inside of your house yet you don't have to worry about your dog creating a mess while you are away. 
Need a large dog kennel for breeding, boarding or for a dog shelter? Well our commercial dog kennels are the best solution for your needs! With loads of options to make maintaining the dogs a breeze and create a hassle free experience for you. Our portable dog kennels are also able to go along with you in case you move, meaning no time wasted and no money lost! 
Looking for a sharp looking horse barn that adds beauty to your pasture as well as functionality? A lean to horse barn for sale is a perfect match for you. Choose how many horse stalls you desire with a option to add a tack room if you choose, this barn will bring ease to your horse raising hobby!
A run in horse barn in the ultimate horse pasture necessity! Allow your horses to get out of harsh weather such as rain, snow, or sleet in the comfort of a run in shed. For easy feeding and maintaining, add a tack room to your run in shed for sale to store food and necessities close by!
A shed row horse barn allows you to safely and securely board your horse. This horse barn for sale comes with dutch doors, allowing your horses to look out of the barn while also allowing fresh air to come in and littered air to escape. Also featuring a 2′ overhang to stop slicing rain from entering your barn!
Large Horse Barns For Sale
Our amish made horse barns come in many shapes and sizes. Ranging from one stall horse barns to ten stall horse barns, we can accommodate any size barn you desire! A custom large horse barn means safety for your horses, easy horse training, and a beautiful addition to your property.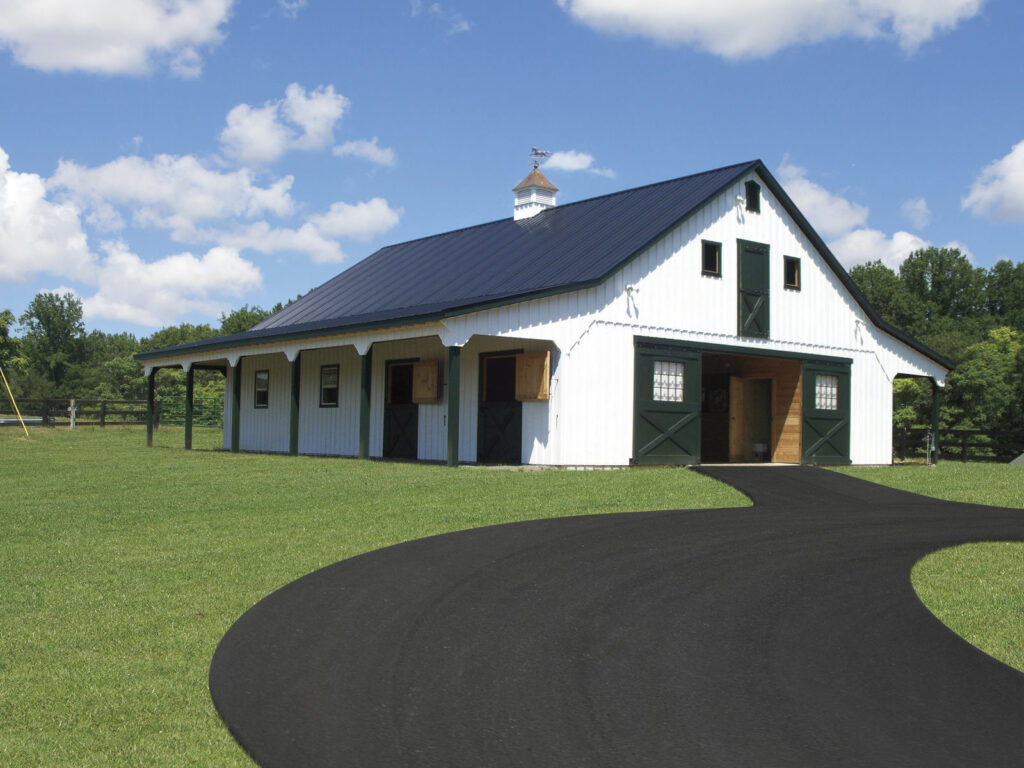 A prefab horse barn, chicken coop or dog kennel is best for any animal owner, but why? When looking for animal structures for sale, they can be costly depending on the size and style you desire. Consider a prefab structure! The best thing about a prefab building is you can take it anywhere you'd like, even if you move. 
This structure is an investment, because we all want the best for our animals, so why not purchase a structure that will last for years and years plus you can take it with you. A permanent structure tends to cost significantly more than prefab building as well. On top of that, you can customize our prefab animal structures to be anything you'd like! Add any option you desire such as an epoxy floor (if applicable buildings) for easy clean up, extra ventilation, or even tougher fencing to keep your animals in and the predators out! 
Another great benefit is the time saved by buying a prefab structure. No need to wait for the building to get built which can take upwards of a full year to complete which means you are losing money day by day just by not being open or your animals are stuck in their current structure which could be old or they have outgrown! For commercial purposes buying prefab animal structures mean there is no money lost! Get your building is a timely manner with no to very little construction to be done, which usually tends to be connecting your electric or plumbing. Get to work as soon as the building is delivered!